The Only VR Newsletter for the Travel Industry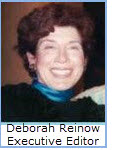 NOTE FROM THE EDITOR We're very picky. That's why this issue is a little shorter than usual. Each month we go through a MOUNTAIN of information on AR/VR to pluck the most interesting stories that pass a specific criteria: Is this relevant for a travel industry pro without a lot of time but wants to keep on top of how AR/VR is evolving in the tour and travel universe? How is the technology translating into sales and marketing programs? How is it being applied at various levels of budget? What are others in my segment doing with this that is exciting?!! We sure hope that we are delivering on this promise to you. If we are, or aren't, or anywhere in between, I'd love to hear from you @ deborah@tours.com!

P.S. We hope too that you enjoy our little end section with headlines of how AR/Vr is being used in decidedly non travel related areas! We can't resist..it's all fascinating!


Closing the Sale with Virtual Reality Catersource.com
Imagine you are part of the sales team for a venue with a spectacular ballroom. It features opulent crystal chandeliers and an open-air terrace with a prime and coveted view of the city lights. Imagine, too, that you are thousands of miles from your property, sitting in a café with a potential client who is looking for a premium venue. You take out your Virtual Reality (VR) headset and offer your prospect not just a look, but a walkthrough. With little obvious effort you have instantly melted the miles and immersed your potential client in an engaging and magical experience. READ MORE
NASA virtual exoplanet tours bureau lets anyone 'vacation' in space Slashgear.com
NASA has introduced its new Exoplanet Travel Bureau, a new part of its Exoplanet Exploration website that enables anyone to "visit" an alien world. While it would be fun to visit one of these distant planets in person, NASA points out that such a mission is still "a distant dream." Here as a substitution is virtual reality and NASA's new interactive version of Kepler-186f. READ MORE


Virgin Galactic wants to use VR to help train you for space travel in three days Techradar.com
Virgin Galactic is already embracing virtual and augmented reality to communicate how it wants to bring space travel to the general public, but the company could use the tech to teach you how to travel to space. Customers of Virgin Galactic won't be trained astronauts with years of experience before they're sent into space. Instead it'll be normal people who have paid for the privilege of travel. Currently the price of a ticket with Virgin Galactic stands at $250,000, but there's no estimated flight date for any of the 650+ people who have already expressed an interest. READ MORE

Star Wars virtual reality at The Void in Disney World and Disneyland Wfaa.com
You don't have to go to a galaxy far, far away to have your very own Star Wars adventure. You only have to head to Downtown Disney at the Disneyland Resort in California or to Disney Springs at Walt Disney World in Florida. With Star Wars: Galaxy's Edge lands scheduled to open in 2019 at Disneyland and Disney's Hollywood Studios, the anticipation and pent-up demand is enough to scramble BB-8's servo controls. But frenzied fans of the franchise need not wait. Both of Disney's dining, shopping, and entertainment districts recently welcomed The Void, location-based virtual reality entertainment centers. READ MORE

Airbnb plans to use AI and VR to revolutionise travel once again Itpro.com
Disruption in the hotel market is set to continue as the industry upstart eyes future tech. The rise of Airbnb has been hard to miss. It has revolutionised travel by making it cheaper and easier to find somewhere to stay, or to find a unique place to spend the night, while letting people make money from their property when they don't need it. READ MORE
Virtual Reality: Insights and Opportunities in the Travel Industry Adventuretravelnews.com
Though hints of virtual reality (VR) have touched society over the last several years, it wasn't until 2016 when the more mainstream, commercial products Oculus Rift, Playstation VR, and HTC Vive came onto the market. Practically overnight, the idea that people could immerse themselves in a technologically generated scenario simulating the real world became a reality. Since then, VR has disrupted, advanced, and challenged industries ranging from automotive technology and gaming to retail and media. READ MORE

How VR is updating our favorite childhood experiences Besttechie.com
Virtual reality (VR) has made substantial progress in a relatively short amount of time. People can now strap on headsets and seemingly get transported to the mosh pit at a rock concert, a destination they've always wanted to visit or even to revisit the experiences that defined their childhoods. VR allows for heading to the cinema, achieving your best score on an arcade game or zooming down a roller coaster track — all without leaving home. READ MORE


There's SO much to pick from but here's some other random VR and AR news:

Are you a wild animal enthusiast? BBC.co.uk
Virtual reality: Would you like to travel the world using VR? READ MORE

Do you love to decorate? Gearbrain.com
7 free augmented reality apps to make decorating your home easier. READ MORE

Umm. Do you have a teenager? Teenvogue.com
Motherlode's Pillow Talk Brings Sex Education to Virtual Reality READ MORE
Do you wish you could snap your fingers and be in great shape? CNBC.com
Disney's virtual reality jacket can make you feel buff without hitting the gym. READ MORE